overview
• 
our vision
• 
our people
• 
timeline
The Ocean Companies is made up of strong individual business units that combined make a powerful team. Some of our key leaders at each of our facilities include:
Francis Miller, Co-Owner, Ocean Protein & Ocean Gold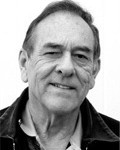 Francis Miller started working during World War II at the age of eleven in a Westport crab cannery. Shortly after graduating from high school in 1949 he purchased his first boat and began fishing out of Westport. By 1959 he fished both locally and in Alaska and he began expanding his fleet. In 1978 he had one of the first factory trawlers fishing in Alaska waters. As his fleet grew he took Arctic Alaska Fisheries Corporation public in 1986 with more than 20 vessels. Through all of his company's growth, Francis continued to be the skilled fisherman whose job it was to keep the boats fishing. By the early 90s, Francis's ability to keep the vessels operating allowed the company to employ more than 2,200 with a fleet of 34 boats. Gross revenues reached more than $300 M when Arctic Alaska Fisheries caught the eye of the national Tyson brand who bought the publicly traded company in 1992.
After a brief time away from fishing, Francis returned to his roots and invested in a crab processing plant in Westport that later became Ocean Gold. His entrepreneurship and innate ability to capture trends in the industry fueled the growth of that company which is now globally recognized as one of the premier processors for Pacific whiting. The 2005 addition of the Ocean Protein fishmeal plant in Hoquiam and the 2008 opening of the Ocean Cold storage facility in Westport is revitalizing the fishing industry with growth and prosperity.
Mark Rydman, President, Ocean Gold Seafoods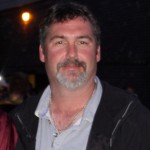 Mark is a third generation fisherman with more than 30 years of experience in the fishing industry. He succeeds his father Dennis as the current President of Ocean Gold Seafoods after an astounding career as a commercial fisherman and Captain of his own fleet. That career led Mark on a worldwide fishing tour that yielded extensive knowledge and wisdom not only on how fish, crab, and operate fishing vessels, but also in the ability to successful leader and grow his operations.
His legacy began when he accompanied his father tendering in Puget Sound in the summer of 1978.  In 1980 he spent his first summer in Alaska and was hooked. During his high school years Mark spent time after school and on weekends learning everything he could on fishing crab and salmon in Grays Harbor bay. After graduating from high school, he ventured to Alaska and joined his father and crew of the Jacquelyn R and began fishing full time.  Mark took full advantage of his father's and other top fishermen's experience and built his own as he fished his way through Alaska and into Russia where he used that experience to teach Russians how to crab.
When he was only 21 years old his commanding reputation and experience landed him in charge of his family's crab vessels. After many successful years running his family's and other's vessels he purchased his first larger vessel and started a fleet of his own in 1997. From there his fleet and experience grew as he worked his way through Alaskan, Washington, Californian and Russian waters. Mark has established himself as a world class crabber and salmon tenderer with plans expand and diversify his fisheries to include prawns and shrimp.
With the untimely death of his father Dennis, Ocean Gold Seafoods elected Mark to take the reins of the company and use his extensive knowledge and experience to push it to new heights.
Dennis Rydman, Co-Founder, Ocean Gold Seafoods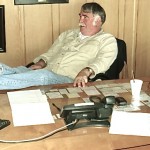 Dennis is a second generation fishermen with nearly 50 years of experience in the fishing industry. His family has deep ties to the industry with his father having launched the Washington Crab Producers group in the late 1950s which became the largest dynamic force for Dungeness crab on the West Coast. With that legacy fueling him, Dennis spent the better part of 40 years fishing, owning and operating boats, and providing employment to others in the industry. It's easier to list the places where Dennis hasn't fished than it is to give an exhaustive list of where his fishing career has taken him. Up and down the West Coast of the US, into Alaska, down to the Gulf of Mexico and as far away as Russia. These are just a few spots where Dennis has fished in his career.
He's owned and operated 20 different vessels that have ranged from 30 to 200 feet and been manned by crews as large as 36. He's had as many as 150 people employed on the ocean fishing for him at any given time, and more than 600 employed on land.
With an education from St. Martin's College in Business Administration, Dennis has always had an innovative approach to fishing with Ocean Gold being a prime example of that innovation as one of the most significant Pacific whiting shoreside facilities on the coast. A Grays Harbor native, Dennis has lived in Westport for 45 years where he has raised all three of his children, each of whom are currently active in the fishing industry.
With great sorrow, Dennis' legacy came to an end in 2014. He led his family, friends, and community into prosperity and won the love and admiration of everyone touched by his kindness. He will missed dearly.
Greg Shaughnessy, General Manager, Ocean Gold Seafoods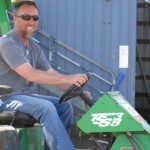 Greg started out salmon fishing in Alaska at the young age of 15 with a friend of an uncle he met at a family wedding. Like many in the fishing industry, he immediately fell in love with it and spent every summer until graduation working on the boat. Recognizing his passion for fishing, his parents allowed him to take his college money to buy his own 29 foot double ender boat which he took to go trolling and long lining in Alaska and Washington.
Looking for more opportunity, his love for fishing even took him to the Atlantic for a stint in the early 80s, where he fished swordfish, tilefish, shark and other species until returning west in 1983 where he started in the pollock and whiting fisheries. In 1990, Greg began running trawlers and soon thereafter he began training the emerging commercial fleet of the Makah tribe between 1995 – 2000. Through those years, he accumulated enough sea time to attain a 1600 inspected masters license. Soon after, he began running large shorebased trawlers in the pollock fisheries until 2005. Wanting to spend more time with his family, he then began working with Ocean Gold, where he is primarily now responsible for ensuring a smooth process of getting the fish out of the ocean and onto the plates of millions of people around the world.
Eric Rydman, Plant Engineer, Ocean Gold Seafoods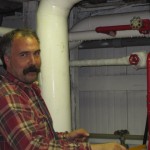 Eric has been building and tinkering with gear and machines since he was a child. And he's been fishing commercially since the age of 12 when he would join his dad on crab trips up to Alaska. By the time he was 14, he was skippering his own 22-foot crab boat in the bay off Westport and continued throughout his High School years when he also began working at what is now Ocean Gold. During winter holiday's Eric would unload crab at the dock and over summer vacation he'd work the travel lift for vessels at what was then called Merino's Seafoods.
His love for tinkering and machines never ceased in those years, and when he began training formally under an experienced engineer, he left life at sea to become a full-time plant engineer at Ocean Gold. Currently, Eric supervises a maintenance crew of 10 and ensures the plant is running smoothly and efficiently regardless of the type or amount of fish that is run through its system.
Sherry Miller, Co-Owner, Manager, Ocean Protein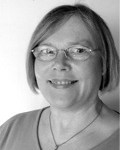 Sherry is a fourth generation resident of the harbor and an accomplished business woman in Grays Harbor. Her family has deep roots in the community. Both sets of grandparents were actively involved in the cranberry business. Her father, Francis Miller, is considered by many to be a prominent leader in the fishing industry.
A graduate of Ocosta High School, Sherry attended Grays Harbor College and has proudly called Hoquiam home for more than 30 years. While her daughter attended Hoquiam High School, Sherry was president of the Parents Booster Club where she helped organize and drive fundraising for the choir's trip to Washington D.C. where they entertained military veterans at the Veterans Hospital and the Old Soldiers Home.
For more than 15 years she owned and managed a gillnet operation in Southeast Alaska and a tuna longlining operation in Hawaii. For Sherry the ideal vacation includes fishing in Southeast Alaska.
Currently Sherry is a co-owner and office manager at Ocean Protein. She is responsible for the accounting department and the daily operations of the office. She holds strongly to the company mission to recycle waste material produced primarily by the processing of locally harvested fish into fish meal and fish oil. This sustainable business practice brings new jobs to the region and has helped put Grays Harbor on the map as an environmental and technological leader in the state.
Lonnie Humbyrd, Maintenance Supervisor, Ocean Cold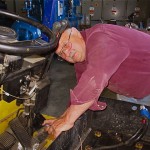 Lonnie grew up on a farm in eastern Washington but by the age of 15 he knew that farming was not the life for him. He began looking for new experiences which took him to a local machine shop. He worked in a few shops after that, learning on the job as he went. Because he had already worked as a kid on the family farm, he knew a good deal about machinery, engineering, and how things worked so was able to take to the skills of machine maintenance and welding quite quickly. By the time he was in his early 20s, Lonnie moved to Westport and started his own machine company, Humbyrd Machine. He ran that shop for 25 years, working mostly with boats in the commercial fishing industry. In the late 90s he handed over operations to his daughter and began working full time with Ocean Gold, managing the maintenance of its new whiting facility.
Over his nearly 50 years in machinery and engineering, Lonnie has worked on all aspects of building and maintenance and has trained a number rising machinery stars, including Ocean Gold's current engineer, Eric Rydman. Currently, Lonnie supervises most maintenance and machine issues for the Ocean Companies working day-to-day primarily at the newest facility, Ocean Cold.